World Jewish News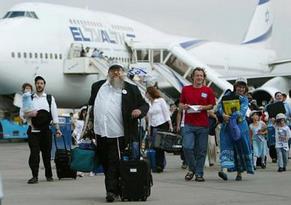 Photo by zioneocon.blogspot.com

Immigration numbers rise

28.12.2009, Repatriation

The number of immigrants to Israel this year rose 17 percent over last year, posting the first increase in 10 years.

Some 16,244 people immigrated to Israel in 2009, compared to 13,859 last year, according to the Jewish Agency for Israel. The announcement was made Sunday by Jewish Agency Chairman Natan Sharansky and Immigration and Absorption Minister Sofa Landver.

Some 5,294 people immigrated from English-speaking countries in 2009, an increase of 17 percent over the 4,511 who immigrated the previous year.

The immigration figures do not include Ethiopian aliyah.