World Jewish News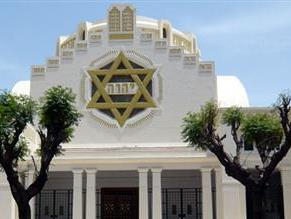 The Great Synagogue of Tunis.

Tunisia Jews consider leaving the country because of instability, Jewish Agency ready with plan to help community

20.01.2011, Repatriation

Twenty Tunisian Jews left the country for Israel because of the instability following the popular uprising which ousted Tunisia's President Ben Ali, and dozens of others are also considering the move, reports said.
The Jewish Agency, a quasi-governmental body that handles immigration, said the Tunisians arrived in Israel on Tuesday and had requested citizenship.
Other Jews are considering to leave the country for France.
Although Jews have not been specifically targeted or affected by the riots, Israeli leaders have expressed concern for the safety of the 1,500-member community, which live mainly on the Mediterranean island of Djerba and in the country's capital, Tunis.
Israeli Deputy Foreign Minister Daniel Ayalon requested Britain and France's help in providing protection for the Jewish community there.
Silvan Shalom, an Israeli Cabinet minister who was born in Tunisia, expressed concern that Islamist groups could take advantage of the chaos.
Jewish Agency spokesman Michael Jankelowitz recalled that just 16 Tunisians immigrated in all of 2010. The Jewish Agency said it was monitoring the situation in Tunisia closely and has already come up with a special plan to help the Jewish community.
Most of Tunisia's 100,000 Jews left after the establishment of the state of Israel and after the 1967 Arab-Israeli war. Most of them went to France and Israel.
The Tunisian Jewish community's ties with the Muslim majority are generally good, but in 2002 an al-Qaida suicide bombing targeted the historical synagogue of Djerba and killed 19 people, including 14 German tourists.