World Jewish News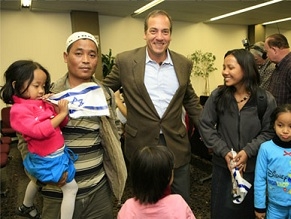 The first Bnei Menashe from North East of India arrived in Israel in 2006

Remaining Bnei Menashe, the 'lost Jewish tribe' in North East of India, to make 'aliyah' to Israel

27.12.2012, Repatriation

Several dozens of Jews from the Bnei Menashe tribe living in a village in North East of India have emigrated to Israel.
The Bnei Menashe are descendants from Jews banished from ancient Israel to India in the eighth century B.C.
A Chief Rabbi in Israel recognised them as a "lost tribe" in 2005 and about 1,700 moved to Israel before the government stopped giving them visas.
Israel recently reversed its policy and agreed to let the remaining 7,200 Bnei Menashe immigrate. 53 of them arrived in Tel Aviv on Monday.
Michael Freund, founder of 'Shavei Israel,' a Jerusalem-based group that reaches out and assists "lost Jews" seeking to return to the Jewish people. said nearly 300 other Bnei Menashe will arrive in the coming weeks.
The Bnei Menashe have been practicing Judaism for more than 27 years.
Also known as the Shinlung, the Bnei Menashe 'lost tribe' relate their history of exile from the Northern Kingdom of Israel in 721 B.C. across the silk route finally ending up in India and Myanmar (former Burma). After thousands of years of exile, they have rediscovered their roots and returned to the religion of their ancestors.