World Jewish News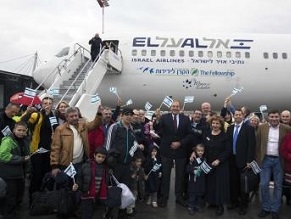 Ukrainian Jews who arrived recently on a special Fellowship flight to Israel. Courtesy The Fellowship.

Ater the beginnig of the Russian occupation, more Ukrainian Jews seek to move to Israel

17.08.2016, Repatriation

The International Fellowship of Christians and Jews (The Fellowship) said that it was flooded with hundreds of phone calls and emails in the past two weeks from Jews in Ukraine seeking to immigrate to Israel.

The organization, which has helped thousands of Ukraine Jews immigrate to Israel, said it expects the demand to grow amid escalating tensions with Russia over Crimea and the eastern Donbass province since July as the Jewish community is caught in the middle.

The rising interest in aliyah among Jews comes as Ukraine says its forces last week were put on high alert as Russia massed 40,000 troops along the Crimea-Ukraine border, with both sides accusing one another of raising tensions ahead of the 25th anniversary of Ukraine's independence.

Pro-Russian forces annexed Crimea in 2014, in a violent conflict that has cost thousands casualties.

The Fellowship already provides one of the world's poorest Jewish communities with life-saving assistance such as food and medicine.

An estimated 260,000 Jews still living in Ukraine. The Fellowship said there are about 5,000 Jews in the disputed Donbass region who are eligible to make aliyah.

Since December 2014, The Fellowship brought more than 3,280 Jews on 27 flights from Ukraine to Israel. Ukrainian-Jewish aliyah has become a major part of the Fellowship's global aliyah initiative enabling Jews facing economic and security threats to move to Israel.

"The plight of the Jewish people in Ukraine is deteriorating," said Rabbi Yechiel Eckstein, founder and president of The Fellowship. "Our support for them will mean the difference between life and death, whether we're providing critical aid such as food and medicine or helping those who wish to immigrate to Israel."

In recent months, The Fellowship has helped nearly 4,000 Jews make aliyah, not only from Ukraine but from other countries where Jews face economic and security challenges including Bolivia, Brazil, France, Uruguay, Venezuela and Turkey.