World Jewish News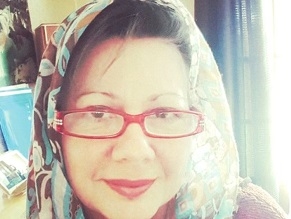 NADINE FRANZ. (photo credit:Courtesy)

French woman's aliya dream thwarted by mother's baptism

19.08.2016, Repatriation

French-born Nadine Franz is appealing for a second time to make aliya to Israel, after being rejected on the grounds that she is affiliated with another religion.

Franz, 53, is currently residing in Arad on a tourist visa which expires on September 4, the date by which the Population and Immigration Authority has asked her to leave the country. She provided documentation to the Interior Ministry proving she is Jewish, including a letter from Dimona Chief Rabbi Yitzhak Elefant and French Rabbi Philippe Assous.

Born to a Jewish mother and an atheist father, Franz says she the only religion she has ever been connected to is Judaism. "We never followed or observed any religious ceremonies or holidays within my immediate family, but we used to observe Jewish festivals and customs with my maternal grandmother. For this reason I never thought of myself as anything but a Jew, especially with my grandmother's maiden name of Levy," she explains.

She first applied for aliya through the Jewish Agency in Paris in April and says she has since been given various reasons for the denial of her application. At first she was told verbally it was due to the fact she had been previously married to a non-Jew, then in writing, because she had been baptized and married in a church, and finally she was told in person that it was because her mother had been baptized.

The Population and Immigration Authority told The Jerusalem Post that Franz's application had been rejected in accordance with the Law of Return, which states that anybody with a Jewish grandparent has the right to make aliya, but excludes those who have voluntarily changed their religion.

Franz says she has never been baptized, and was surprised to hear that her mother had, a fact she discovered to be true. Franz has not spoken to her mother for 15 years due to an internal family feud, however, she speculates that her mother's baptism at the age of 13 in Morocco may have been due to fear of religious persecution.

"1957 was just before the time when my maternal grandparents, who were of French origin, were planning to leave their birthplace of Morocco," she recalled. I believe because of the political changes that were happening in Morocco at that time, as well as the more relevant issue of Jews being oppressed by the incoming Islamic rule, that the only reason for my mother to have been baptized was to avoid religious persecution as was common to Jews at that time," she states in her appeal to the ministry.

"Given the period soon after the Nazi murder of Jews and their subsequent insecurity in light of all that had happened then and previously, and was still happening subsequently, with the fear of what was going on in Morocco at the time, can my mother's 'conversion' to Christianity, probably due to fears of her parents, especially at the undeveloped age of 13, to make it easier to flee to France, be considered a genuine conversion, especially since we never practiced any form of Christianity in my family?" her letter states.

Franz says she appreciates and supports Israeli concerns about maintaining the Jewish nature of the state. She says however, that she has always identified as Jewish and believes "gray areas" must be addressed.

Franz's great grandmother was buried in Israel, and says she wishes to return to the land of her ancestors and to close a circle. "My goal is to register a business in the land making crocheted kippot, sewing Hebrew garments and tallits and therefore contributing to the growth of the Israelite nation in observing the commandments of Torah."

Sources familiar with the aliya process suggested the ministry may have obtained information linking her with Messianic Judaism, a claim Franz categorically rejects.