World Jewish News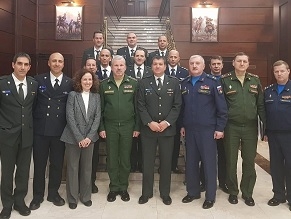 Israeli and Russian military delegations meet in Moscow, Russia, December 12, 2018 (IDF Spokesperson's Unit)

Israel says 'understandings' with Russia reached over Syria

14.12.2018, Israel and the World

The IDF said Wednesday that a delegation that traveled to Moscow to discuss coordination in Syria, and to hold a briefing on the operation on Israel's northern border, had "reached understandings" with its Russian counterparts and agreed to continue working together.

Israel and Russia have been at loggerheads since the downing of a Russian spy plane by Syrian air defenses following an Israeli attack on a suspected Iranian facility near Latakia on September 17.

The Israeli officers, headed by Maj. Gen. Aharon Haliva, commander of the IDF's Technology and Logistics Directorate, briefed the Russians on Operation Northern Shield, the newly launched operation to find and destroy Hezbollah cross-border attack tunnels, which Israel says the Iran-backed terror group has dug into Israeli territory from southern Lebanon.

The representatives of the two militaries also discussed improvements to the deconfliction mechanisms in place to prevent military engagement between Israel and Russia in Syria, and the IDF presented its policy of continuing to act against Iranian consolidation and the arming of Hezbollah in Syria, the Israeli military said in a statement.

"Understandings were reached between the delegations and they agreed to continue working together," a brief statement from the IDF said.

Israel has repeatedly said it will not allow Iran, or its Shiite proxies, to establish a permanent presence in post-war Syria. It has launched numerous attacks on targets it says are a threat to its security.

Russia, which is a main backer of Syrian dictator Bashar Assad, has maintained a deconfliction hotline with Israel, allowing the Jewish state to freely carry out the attacks as long as it is informed beforehand.

The Israel Defense Forces announced Monday that the decision to send the officers was made following a phone call between Prime Minister Benjamin Netanyahu and Russian President Vladmir Putin on Saturday.

During the call, Putin told Netanyahu that Israel and Russia must improve their military cooperation in Syria.

The army's announcement came hours after Assad said he and Moscow were both convinced that Israel had acted deliberately during the September incident.

Israel has repeatedly rejected Russia's claims that Israeli fighter pilots took cover behind the Russian plane, putting it in the path of an incoming Syrian S-200 anti-aircraft missile. All 15 Russian crew members on board the plane were killed in the incident.

In an interview with an Omani newspaper, a Gulf state that has seen a recent warming of ties with Israel, Assad said that Damascus and Moscow had reached a consensus that the downing of the place was not an accident.

"Our leadership is united with the Russians, and it is clear that the incident is deliberate. The Russian media is transparent and has managed to expose the lies of some of the claims," he said.

Although Putin initially told reporters that the incident was due to a "chain of tragic accidental circumstances," the Russian defense ministry later declared that Israel was responsible, saying the Israeli Air Force jets used the Russian plane as cover.

Israel rejected the accusation.

Since the downing of the spy plane, ties between the two countries have been strained — a marked change from the previously more cordial relationship between Moscow and Jerusalem, which regularly praised their open dialogue, though they disagree on key issues, like Iran.

Things deteriorated after Russia delivered the S-300 missile defense system to Syria, something that Israel has repeatedly asked Russia not to do. Moscow said the supply of the advanced anti-aircraft system was necessary in order to prevent further threats to Russian troops and to cool off "hot heads."

By TOI STAFF. Judah Ari Gross contributed to this report.