World Jewish News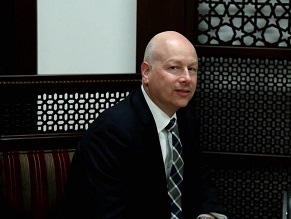 US President Donald Trump's Assistant and Special Representative for International Negotiations, Jason Greenblatt (C) in Ramallah, West Bank [Issam Rimawi/Anadolu Agency]

Russia to propose 'alternative' to peace deal, says Palestinian official

25.04.2019, Israel and the World

Russia is currently working in coordination with the European Union (EU) "to crystallize a new vision for the Palestinian-Israeli peace process based on international legitimacy," the Palestinian ambassador to Russia, Abdel Hafiz Nofal, announced yesterday.

Speaking to the Voice of Palestine radio station, Nofal explained that the Russian proposal would be "an alternative" to the US-brokered Deal of the Century.

"The Russian move reflects the international community's rejection to the American plan," he added.

The Palestinian official urged Moscow "to introduce the necessary mechanisms for its proposal's implementation."

Since taking office in 2017, US President Donald Trump has been touting the "deal of the century," with his son-in-law Jared Kushner and his special envoy to the Middle East Jason Greenblatt, working closely on the plan.

Under the plan, Israel would gain security control over the West Bank, which is an occupied territory, according to the United Nations (UN).

Jerusalem remains at the heart of the decades-long Middle East conflict, with Palestinians hoping East Jerusalem – occupied by Israel since 1967 – might one day serve as the capital of a Palestinian state.