World Jewish News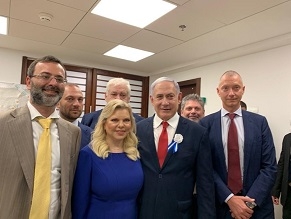 From Left to right: Georgy Logvinsky, Sara and Binjamin Netanyahu, Boris Lozhkin

Ukrainian delegation visits Knesset's inauguration

08.10.2019, Israel and the World

October 3, the ceremony of swearing in of the 22nd Knesset was held in Israel. The only foreign delegation officially invited was from Ukraine. The delegation included President of the Jewish Confederation of Ukraine Boris Lozhkin, member of the JCU Presidium Hryhorii Shverk, member of the JCU Supervisory Board, and President of the All-Ukrainian Jewish Council Oleksandr Suslenskyi.

The delegation members not only welcomed the newly elected members of the parliament, but also met with the Israeli Prime Minister Benjamin Netanyahu, Knesset Speaker Julius Edelstein, and other political leaders

The central theme of the speeches of both the President Reuven Rivlin and the Speaker of the Knesset Julius Edelstein was the national unity. This topic is especially relevant today for Israel – just six months ago, for the first time in the history of the state, the parliament failed to form a coalition within the allotted time. The Knesset was dissolved and new elections took place.

As Julius Edelstein reminded, it was the lack of national unity that already twice had led to the collapse of the independent Jewish state – the United Monarchy and the Hasmonean State. "When the Jews fought against an external enemy, they were able to crush empires. But as soon as a civil war between the Jews themselves began, everything collapsed like a house of cards," Edelstein noted.

"This topic is familiar not only to the Israelis. The history of Ukraine is full of similar examples: from the Kyivan Rus to the Ukrainian National Republic (UNR) It is a great challenge to solve the problem of lack of national unity, especially in the presence of the external aggression. Both Israel and Ukraine will have to do their best to achieve it, as the chances of survival of our states directly depend on how united we are," noted Boris Lozhkin.