Slutsk Memorial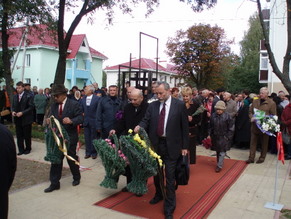 A memorial to ghetto victims was opened on September 16 in the center of Slutsk city (Belarus). The memorial is a part of the EAJC project to memorialize places of mass burials of Holocaust victims.

Approximately 3000 Jews, including the elderly and children, died as a result of the suppression of an anti-Fascist uprising that had taken place in January 1943. Many witnesses and participants of the uprising were burned alive in locked houses within ghetto territory.

The author of the memorial project is EAJC General Council member, Chairman of the Union of Belarusian Jewish Associations and Communities Leonid Levin.

During the commemorative ceremony for the opening of the memorial, EAJC General Council Chairman, Chairman of VAAD Ukraine Josef Zisels was one of those who placed a wreath at the memorial. He also spoke on the behalf of the Euro-Asian Jewish Congress.

The Euro-Asian Jewish Congress was also one of the main sponsors for the erection of the memorial.

Photo gallery from the ceremony.