Euroasian Jewish News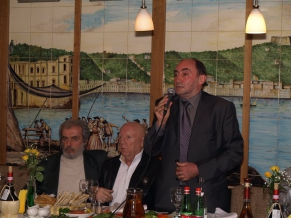 Presentation of Yuri Raskin

EAJC Congress College Established

09.10.2009

On the 8th of October, the Moscow office of the Euro-Asian Jewish Congress (EAJC) held an event titled "EAJC Congress College: The Beginning." Among the participants were members of the leadership and the Council of Directors of the Congress, as well as many guests who are part of the business community.

The event was timed to the holiday of Sukkot, so before the official part of the meeting, everybody had the opportunity to meet in the Sukka near the Large Choral Synagogue, to fulfill the holiday precept of being in the Tabernacles. Those who came to the traditional businessmen tabernacle were greeted by EAJC Executive Vice-President Yuri Raskin, Secretary General of the Congress Michael Chlenov and Head Rabbi of Russia Adolph Shaevich.

Rabbi Shaevich spoke in great detail about the history and traditions of this holiday, and reminisced about Sukkot celebrations in 1970's Moscow. Upon completing the lulav precept, which consists of trusting in God's patronage in all things, the participants of the meeting went to the nearby restaurant Viaggio Napoli, where the working part of the event took place. The owber of the Viaggio chain of restaurants and a number of other popular restaurants, Merab Elashvili, received the visitors.

The main topic of the meeting was the idea of creation of a new club society under the aegis of the EAJC – the "Congress-college," which would unite representatives of the business world, of culture and science, politicians and public figures, who share the humanitarian values of the Congress and who seek to advance their own and collective business and community-important projects. The initiative to create the "Congress-college" was by Yuri Raskin and head of the EAJC Director's Council Leon Gandelman. The idea of the new union was enthusiastically supported by members of the Council of Directors Larisa Ryabchenko, Tatyana Ryskina, Bictor Gaft, Michael Gotalsky, Yakov Kaller, and Grigoriy Kogan. All of them noted that such unions are in high demand.

After a lively discussion, in which practically all present took part, it was uniformly decided that the "Congress-college" is to be. After the end of the business part of the meeting, Yuri Raskin proposed to all present to participate actively in the preparation of the constituent assembly for the "Congress-college," and in the writing of its policies.