Euroasian Jewish News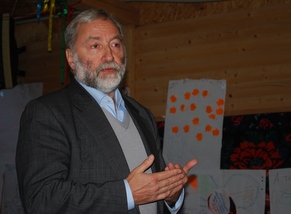 Lecture by EAJC General Council Chairman Josef Zisels

Young Leader School in Chernovtsy.

04.11.2010

The "Steps Towards Each Other" School for young leaders is currently taking place in Chernovtsy (Ukraine). The school is aimed at intercultural interaction and is for young leaders from different regions of Ukraine and Moldova who represent different ethnic communities.


The program of the event includes lectures, training excersizes, psychological games, and skills building sessions. The main coaches and organizators of the School – Anna Lenchovskaya and Kira Kreiderman – held workshops on the mechanisms of intercultural interactions and work with stereotypes, as well as discussions on the problems of identity and historic memory. Constantine Reutsky became the main lector during the day dedicated to human rights education. Euro-Asian Jewish Congress (EAJC) General Council member Vyacheslav Likhachev gave several lectures on the historic aspects and contemporary xenophobia situation in the region. EAJC General Council member Josef Zisels dedicated his lessons to tolerance, its boundaries, and ways of forming a tolerant mindset in the young generation.


The participants also visited the Museum of History and Culture of Bukovina Jewry, and Josef Zisels was the guide for their Chernovtsy tour.


The intermediate result of the school for young leaders will be the preparation of independent mini-projects to form a climate of tolerance and mutual understanding in society.
The School is a project of the Congress of National Communities of Ukraine (Executive Vice President – Josef Zisels, Executive Director – Anna Lenchovskaya).