Euroasian Jewish News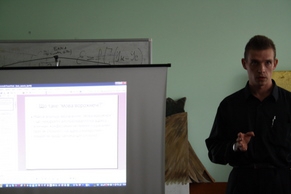 Lecture by EAJC General Council member Vyacheslav Likhachev

Seminar on Tolerance for Future Journalists in Ostroh Academy

08.11.2010

On the 6th of November, a seminar on tolerance, xenophobia, migration, and life of national minorities for students of journalism took place in the National University "Ostroh Academy" (city of Ostroh, Rivnenska oblast, Ukraine). The event was organized by the Congress of National Communities of Ukraine (Executive Vice President – Euro-Asian Jewish Congress (EAJC) General Council Chairman Josef Zisels) together with the Center for Civil Education, as part of the wide-scale project "Ukrainian Books for Teaching Tolerance," which is financially supported by the Netherlands organizations "Anne Frank House" and "Fund of Central and East European Book Projects."
During the seminar, the future journalists learned about tolerance, xenophobia, and hate speech, listened to a lecture about international relations and cases of xenophobia in today's Ukraine and in the world; the second part of the event was dedicated to reinforcing the material with practice tasks. The lections were given by EAJC General Council member Vyacheslav Likhachev, and the practical seminars were given by psychologist Kira Kreiderman (Chisinau, Moldova). The students also each received a gift set set of books that was published as part of the project, including "Essays on the History and Culture of Ukrainian Jews," edited by EAJC General Council member Leonid Finberg, "50 Questions on Anti-Semitism," the Ukrainian edition of Tanja Jaap's book prepared by Vyacheslav Likhachev, "The Diary of Anne Frank," "Policulturica: How to Organize Tolerance Lessons in School and Out-of-Class Activities," and others.
The National University "Ostroh Academy" was founded in 1994. The university was opened in place of the historical Ostroh Slavic-Greek-Latin school, the first Eastern European university, esablished by prince Ostrogski in 1576. At the moment it is an important Ukrainian scientific and cultural center.