Euroasian Jewish News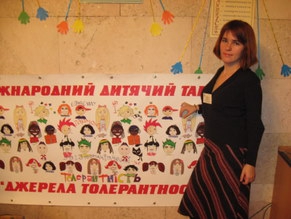 CNCU Executive Director Anna Lenchovskaya

EAJC Shares Experience in Fostering Tolerance

30.11.2010

The pan-Ukrainian youth forum "Etnotolerance as a format of communication for contemporary youth in counteractiv xenophobia" took place in Kyiv on November 29-30. The organizators are: Ukraine's Ministry of Culture and Tourism, the Confgress of National Communities of Ukraine (CNCU) and the Council of National Communities of Ukraine. The even took place in the National Children's Library of Ukraine.
In his speech to the participants during a special press-conference in the first day of the Forum, the Euro-Asian Jewish Congress (EAJC) Chairman, CNCU Vice President Josef Zissels spoke about the EAJC and CNCU programs targeted at fostering tolerance.
The main discussion session in the first day of the forum was dedicated to xenophobia among youth. The discussion was moderated by CNCU Director Anna Lenchovskaya and EAJC General Council member Vyacheslav Likhachev.
On the second day of the forum, Anna Lenchovskaya gave a presentation on the unique international children's summer camp "Roots of Tolerance," which is held yearly by the CNCU with EAJC support.