Euroasian Jewish News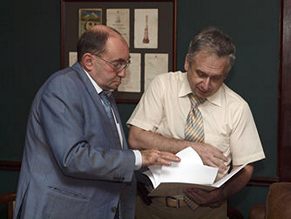 Congress College Chairman, EAJC Vice President Yuri Raskin (left) and Alexander Knizhnik, Head of the Board on Business Safety and Defense

EAJC Congress College: Questions of Business Information Security

23.06.2011

On the 21st of June, as part of the activity of the Euro-Asian Jewish Congress (EAJC) business community "Congress College," a meeting of the Board on Business Safety and Defense took place. The topic of the meeting was informational safety.


The leader of the Board, Alexander Knizhnik, denoted the main positions that characterize the informational safety of a business, and introduced the experts invited to the event: councillor to the Department on State Security of the State Duma Administration Vladimir Merovitsky and head of the department of informational security for the "Goznak" federal state unitary enterprise, Sergei Volkov.
When discussing the topic, the very notion of "informational security" was discussed, as well as the place and role of informational safety in the state and society, of the statutory regulation and the agencies that provide the informational security of the State and businesses alike. Special interest of the participants was sparkled by discussing the threats to the informational security of a business, defining the ways to defend businesses from informational attacks, realizing informational security policies, and finding solutions to various questions of business informational security.A lively discussion of the new law on the defense of personal data took place, as well as of the methods of realization for its regulations. The experts gave recommendations about its practical implementation.


EAJC Vice President Yuri Raskin closed the meeting by pointing out motivations, interests and professional capabilities of the members of the College, as well as the ways to proide informational support to the College and to create working contacts.