Euroasian Jewish News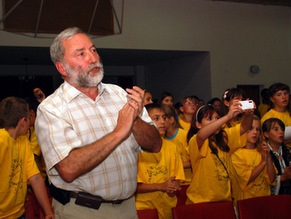 Josef Zisels and the children at the Roots of Tolerance camp

Children's Camp "Roots of Tolerance" Ends in Mukachevo

11.08.2011

The 10th International children's camp "Roots of Tolerance" has ended its work on the 7th of august. This camp, which took place in the "Latorytsa" rest home in Mukachevo, Zakarpattia Oblast, Ukraine, hosted 170 children aged 7-17 from 23 ethnic communities of Ukraine and Belarus. The participants of the camp included Angolians, Asssyrians, Afghans, Belarusians, Bulgarians, Armenians, Greeks, Jews, Crimean and Volgian Tatars, Moldavians, Iraqui, Chechen, and others will be able to immerse themselves into the national and religious cultures of different peoples. Members of the Afghanian and Korean communities of Ukraine are joining the camp for the second year in a row, and refugees from Angola, Afghanistan, Congo, Kyrgyzstan, Uzbekistan, Tajikistan and other .


The camp was conducted by the Congress of National Communities of Ukraine, with the support of the Euro-Asian Jewish Congress, Ministry of Culture and Tourism of Ukraine, the Danish Refugee Council, and other charity organizations and private sponsors. The camp employs teachers from national communities of Ukraine and professionals that have completed special preliminary training at the seminars of the Congress of National Communities of Ukraine (CNCU) and who understand the peculiarities of intercultural dialogue.


The aim of the project is to foster international and interfaith tolerance in children and youth, to counter xenophobia, to form an active civil position in represenatives of national communities, and to spread knowledge about the national and religious diversity of Ukraine.


The Moldovan International Children's Camp "Roots of Tolerance" is upcoming with EAJC support, and to take place on August 17-27 in the park belt of Vadul lui Voda, at the "Dachia" recreation camp.