Euroasian Jewish News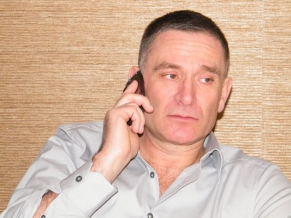 EAJC Acting President, co-producer of the ''Third World War Has Begun" series Vadim Shulman

EAJC Congratulates Vadim Shulman and Vladimir Sinelnikov with Prestigious Award

05.03.2012

The Journalist's Union of Russia have announced the laureates of the pan-Russian competition of 2011. Among the nominated works was the documentary drama series titled "The Third World War Has Begun." The creators of the film – director Vladimir Sinelnikov and co-producer Vadim Shulman won in the "Professional Mastery" category.


At the request of the EAJC portal editors, Acting Vice President of the Euro-Asian Jewish Congress Vadim Shulman commented on the award:


"I feel not only great happiness, but also great pride about the decision of the Journalist's Union to give an award to "The Third World War Has Begun," a series of films on the fight against international terrorism, which has arisen out of modern conflicts between civilizations. I can imagine that the decision to award the "Third World War" did not come lightly to journalists of a country that knows about these conflicts first-hand, for instance Beslan. These problems have also touched my own life. I was born in Russia, grew up in Ukraine, live in Europe, and my parents live in an Israeli city that the rockets reach. There is only one world, one for everyone. This is why our series of films was filmed by camera people from Russia, Europe, America, Israel, Palestine, Syria, and Lebanon.


It is very important for the creators of the series that our work on the fight against international terrorism has been acclaimed by the President of Israel Shimon Peres and Mayor of New York, Michael Bloomberg, on behalf of New York's citizens, who were victims of the attack on the Twin Towers. The Journalist's Union is important mostly because it was given in Russia.


On behalf of the the Kloto-Plus Studio, which I am co-founder of together with Vladimir Sinelnikov, who is the author of the series, and as the series' co-producer, and as the father of three daughters who are to live in this world, I would like to give my gratitude to our colleagues that have noted our work. If we saved even one child by making our films, then we have deserved it."


The Euro-Asian Jewish Congress proudly congratulates the creators of the series, whose films were shown on the TV of forty-nine countries, and which were premiered in New York at the UN headquarters, and wish them more and more successes!