Euroasian Jewish News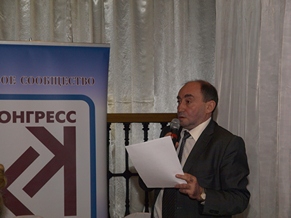 Yuri Raskin opens the meeting

EAJC Congress College: the Real Estate Market and Investment Projects

28.04.2011

A plenary meeting of the Congress College, a business community under EAJC aegis, took place in Moscow. The meeting was titled "Real estate again! Analysis of the situation and presentation of suggestions."

The meeting was opened by the Congress College Chairman, EAJC Vice President Yuri Raskin, who presented the topic of the meeting. He noted that the latest financial crisis lowered the interest of businesses and the population as a whole towards real estate. The question is, considering such an environment, should active action be taken on this market, and what are the perspectives of such action?

The main report dedicated to the main tendencies of the development of the real estate market in the post-crisis period was presented by Vice President of the Russian Realtor's Guild, Head of the AN "Savva" Constantine Aprelev. He gave a short summary of the development of the situation, and used examples to demonstrate the dynamic of the real estate market exiting the crisis. The expert also noted the fact that the attractiveness of the real estate market has objectively increased for investors.
The main report set the tone for the discussion at the round table, led by the President of the Russian Realtor's Guild, Director General of the "BEST-Nedvizhimost" Grigoriy Poltorak. The experts of the round table included businessmen working with real estate, such as Alexei Strokov, Pavel Rodin, Denis Kolokolnikov, and journalists working in this sphere, including Valeria Mazganova and Sergei Zharkov. They mad e a comparative analysis of various ways of investing into real estate, analyzed the attractiveness of investments into different areas of the market, and examined the main factors influencing the prices and volume of propositions. Other participants of the meeting also contributed by making a distinction between positions "for life" and "as the investor's tools."

Summarizing the discussion, Grigoriy Poltorak noted that the discussion as a whole showed "a restrained optimism" for the perspectives of the real estate market. He also stressed that real estate is the sphere into which non-professionals are the most successful at investing into.

After the end of the round table, several investment projects were presented to the gathering. In particular, the Moscow residential neighborhood Aristovo-Mitino in Moscow, the residential compound Quadro in the Greater Moscow area, and a hotel in Krasnodarskiy territory.

At the end, Yuri Raskin drew the attention of the gathering to the fact that practical steps to implement joint projects in real estate will be undertaken as part of the College's work in investment activity and project financing of the Congress College business community.

Further discussion of possible joint work – on the topic of the event and off topic both - continued during the traditional reception.