Euroasian Jewish News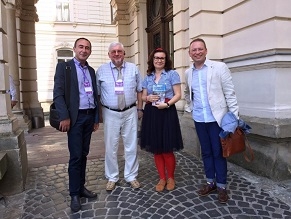 Maxim Hon (left); Andriy Pavlychyn (second left); and Ivan Monolatii after the presentation of Hon's new book at the 25 Book Forum.

Jewish life in Rivne explored in new book

14.12.2018, Jewish Communities

Numerous books and monographs have appeared in recent years describing the rich lives of the Jewish communities that inhabited the territory of contemporary Ukraine prior to World War II. Now Ukrainian historian Maxim Hon has penned the story of Rivne's Jews, adding to a greater understanding of the country's historic ethnic mosaic.

"I wanted to return to history those people who were lost to history," Hon said at a presentation of his book, Rivne: Outlines of the Missing City, held at Lviv's 25 Book Forum this fall.

Hon is head of the department of political studies at the Rivne State Humanitarian University and director of the non-profit organization Mnemonics, dedicated to memory policy in Ukraine. He is a specialist on Ukrainian-Jewish relations during the interwar period and World War II.

With Rivne's history as a backdrop, Hon's book tells the story of Rivne's Jewish community through personalities who participated in the city's civic, political and economic life; its important benefactors; and various aspects of inter-ethnic relations. Hon has won wide-spread praise for writing a book easily accessible to the average reader.

Ivan Monolatii, a professor at the Vasyl Stefanyk Precarpathian National University who participated in the presentation, said it is important that books which explore Ukraine's ethnic communities are finally being published. The question of historical memory has too often been geared toward ethnic Ukrainians, he said.

"The dilemma of minorities is a question," he said. "Ukraine is polyethnic."

Although more needs to be done, participants underscored that publications like Hon's show Ukrainian historiography is beginning to slowly change. The country is returning to the past and realizing what has been lost.