Euroasian Jewish News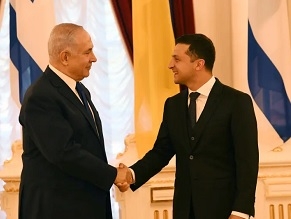 Prime Minister Benjamin Netanyahu meets with Ukrainian President Volodymyr Zelensky (photo credit: AMOS BEN GERSHOM, GPO)

Ukraine pulls out of 'anti-Israeli' UN committee on Palestinians

10.01.2020, Ukraine

Ukraine has left the UN Committee on the Exercise of the Inalienable Rights of the Palestinian People. The decision was approved by Ukrainian President Volodymyr Zelensky.

The 25-country committee is the source of many resolutions criticizing Israel, which are often adopted by the UN General Assembly. It was established in 1975 "to enable Palestinian people to exercise their inalienable rights, including the right to self-determination... the right to national independence and sovereignty, and the right to return to their homes and property from which they have been displaced."

The Foreign Ministry tweeted congratulations to Ukraine for quitting the "anachronistic anti-Israeli" committee. "We urge other committee members to follow suit. What are you still doing there???" the tweet reads.

Israeli Ambassador to Ukraine Joel Lion said Israel "constantly" asked all of the friendly countries on the committee to leave it. "There's no need for such a committee. It's the example of singling out" Israel at the UN, he said. "It's the committee that always makes decisions against Israel... I feel that people understand that [the committee's] time has passed."

In Ukraine, the decision would have to be approved by the president, and with Zelensky's election to the presidency, the government became more open to the idea, Lion said. Zelensky's office weighed the proposal positively ahead of Prime Minister Benjamin Netanyahu's visit to Kiev in September.

The final decision to depart the committee was "made at the highest level, by the president," Lion said.

Ukraine generally votes favorably to Israel at the UN Human Rights Council in Geneva, he said, but it has a more mixed voting record in New York and tends to follow European voting trends.

Zelensky's office did not respond to requests for comment.