Euroasian Jewish News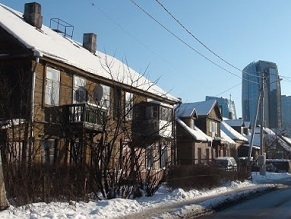 Vilnius

Over 100 Claimants in the Vilnius Palace of Concerts and Sports Case and a Request for Evidence

10.02.2020, Jewish Communities

At the beginning of 2019, an Israeli citizen, whose ancestors are buried in Vilnius, filed a preventive claim to the Vilnius City District Court requesting for the reconstruction of the Vilnius Palace of Concerts and Sports building to be forbidden.

By the end of last year, the court acknowledged more than one hundred people, who support the claim and express concerns regarding construction works in the place of Old Jewish Cemetery, as claimants in the case. They request the Court to consider the fact that this legal dispute would not be taking place if the cemetery belonged to the Catholic community rather than the Jewish people, who are an ethnic and religious minority. Today, the territory where the old cemetery and the Sports Palace are located is not well-kept. People come there to have a snack, play with children, kick a football, organize meetings, and walk dogs. Most people don't know that all of these activities happen on top of people's graves. After the reconstruction, the building is intended to operate as a conference and concert hall, i.e. a place for people to dance, drink alcohol and have fun – all over the remains of former Vilnius citizens. It is said that any construction and groundwork can be done without interfering with the remains of Jewish people buried there.

In December, in their reaction to the emerged situation, PC 'Turto bankas' informed that it had finalized a new agreement with the Lithuanian Jewish Community and the European Jewish Cemetery Preservation Committee, in which a technical project for the Sports Palace reconstruction and its adaptation was discussed. The signed agreement was sent to court only after the claimants' request. Until now, the document is not publicly available and its conditions have not been shared with the local community, including the representatives of ethnic minorities.

It has to be noted that the territory of Snipiskes Old Jewish Cemetery on Rinktines street in Vilnius is included in the Register of Cultural Heritage of Lithuania. Despite the fact that the cemetery was granted the status of an object protected by the government, it is not properly maintained and is fully abandoned. Memorial plaques on Jewish graves were restored and placed in order only after notification from the European Foundation of Human Rights was received.